Planning a vintage living room begins with finding some great pieces of furniture. Just because you choose vintage furniture doesn't mean the entire room needs to be outdated. Use one or two pieces to inspire your decor. Many people base their whole room around a sentimental piece. Here are some of the best ideas to get you started:
Southwestern inspiration
Whether you want a southwestern vibe for your living room or simply have a vintage feel, you can do both by using a southwestern style rug. Turkish rugs made of wool add warmth to a room's tile floor, while colourful Native American craftwork and tribal pillows add character. Adding a wooden antique side table is also an ideal choice for a Southwestern-inspired living room.
The most iconic element of a Southwestern-inspired home is the cow skull. While the real thing is expensive, you can purchase faux versions at a discount. To add an extra pop of colour, you can also hang a Navajo-patterned blanket on the wall. If you're unsure of where to get a real cow skull, check out the internet and shop around. In fact, you'll be able to find some great deals online.
When choosing a Southwestern-style sofa, make sure to think about the colours and patterns. You can go bold with colours and patterns or keep it subtle with neutral shades. If you're designing a living room for your mother-in-law's home, you'll find that a light-washed wood console table will give you a perfect palette for using Southwestern inspiration. The use of southwestern accents will help you create a cosy atmosphere.
In a vintage living room, a tufted red sofa and black armchairs create a southwestern-style look. A large, white fireplace with a wooden log mantle is the focal point of this vintage-style living room. A bright red area rug accents the light-coloured sofas and sectionals. A large arched window adds a splash of colour to the room. If you're interested in creating a unique look for your vintage living room, you can try incorporating a Southwestern-style rug and a Southwestern-style sofa.
Mid-century modern
A mid-century modern living room features streamlined, bold colours and retro accents. You can get an authentic look by using vintage pieces of furniture. Some antique pieces are still in excellent condition. Modern designers favour the Eames lounge chair for its slender, sleek back and curved seats. The perfect combination of retro and modern style, the Eames lounge chair is sure to impress. If you'd like to make your living room unique, you can experiment with different patterns and textures.
The classic mid-century design requires white walls with an accent wall in grey. The grey is a cool colour and is best complemented with a warm accent colour. The colour palette for a mid-century modern living room is full of earthy tones like pink, teal, and chartreuse. Grey and white are common neutrals for the room, and you can experiment with these shades to create a unique look for your room.
You can experiment with different pieces of furniture, art, and accessories to create your perfect mid-century modern living room. You can use brown leather sofas with geometric accents, and choose an art print of dreamscape surfing. Choose a stylish carpet to complement the design, and place potted plants on the floor for a unique touch. Adding a few potted plants to the space will tie the look together. This style of decor is not for everyone.
Floor-to-ceiling windows are an excellent way to save on electricity, but you can still have some privacy. If you're worried about being seen, add long curtains or an extra security system. A hanging fire pit is also an excellent option for a mid-century modern living room. And don't forget the colour black. It gives a striking contrast to the other colours in the room. There's no room for confusion with the mid-century modern living room.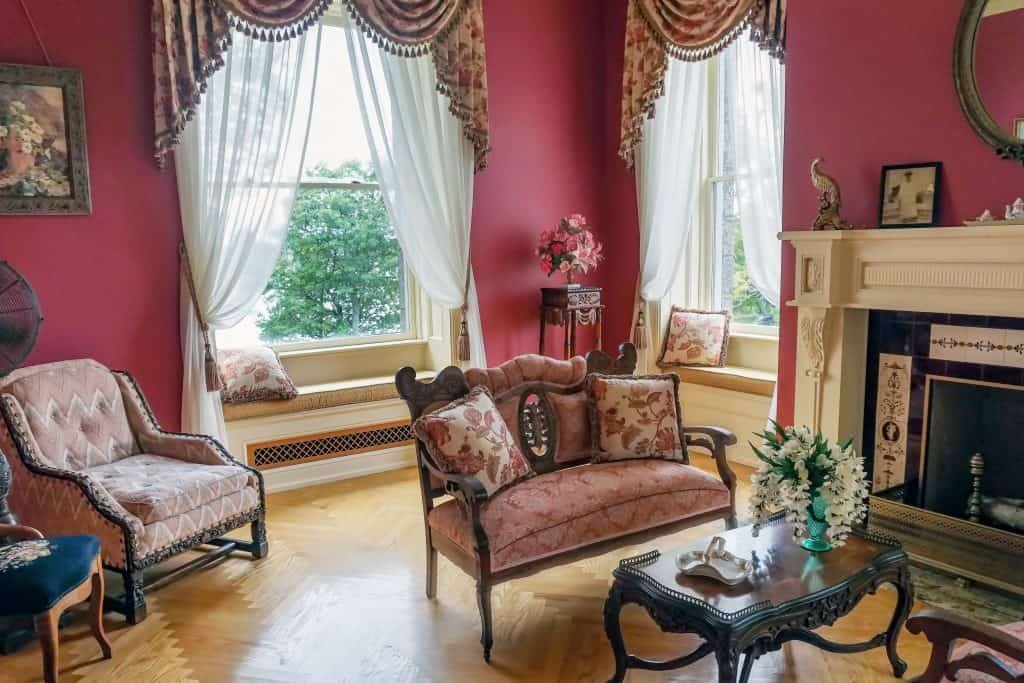 Persian rug
Adding a Persian rug to a vintage living room is a beautiful way to make a classic design look modern. Persian rugs are often large and feature intricate patterns and colours. They can be used as wall hangings, adding colour, drama, and texture to a room at a fraction of the cost of more traditional pieces. Rugs are also very versatile, as you can place them over doors and electrical outlets for a unique look. You can also use them as wall art, making them a great way to add colour to your vintage living room.
A Persian rug in a vintage living room is not a good idea for every home, but a vintage rug in a vintage setting will give the space a vintage feel. Antique Persian rugs are also a great option, as they have histories of many centuries. They are beautiful pieces of art that reflect the culture and tradition of the countries where they were woven. When you are choosing a rug for your vintage living room, make sure to choose a piece with symbolic meaning, and be careful to match it with the rest of the furniture and decor in the room.
You can choose from various types of Persian rugs. One type is the tribal Persian rug, which is made from hand-spun wool and natural dyes. It has a unique pattern, derived from the traditional serape. It has an old-world feel and a rich colour palette, which will make your vintage living room look even more vintage. Featuring a deep red colour with accents of beige, this rug will add a vintage look to your living room. The artisanal process of making these rugs can take as long as four hundred and thirteen days.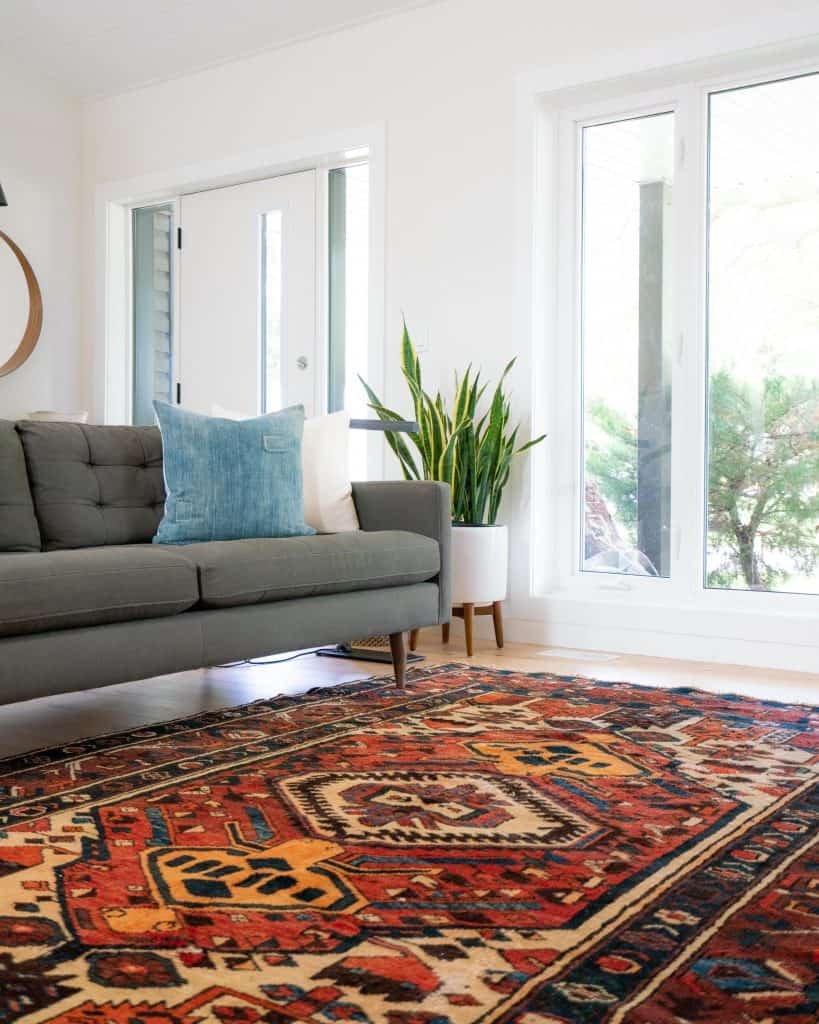 Mid-century modern barrel chairs
There are many different styles of barrel chairs that work well in a vintage living room. If you have a small living room, you may want to consider investing in a pair of blue barrel chairs. The ottomans slide under the chair for extra comfort. These chairs are available in different colors, and the trellis print is perfect for a transitional or classic look. While most barrel chairs are available in black or natural finish, you can also find them in gray or black frames with charcoal cushions.
If you are looking for a classic barrel chair with a conservative footprint, consider the Travis chair and ottoman set. They are made of sturdy wood and upholstered in elegant, artful hues, including rich walnut and light ivory. You can also choose from a wide range of red barrel chairs with diamond-tufted backrests and tapered metallic legs. Choose between a modern and a traditional look by choosing one of these chairs to accent your vintage living room.
These chairs can be found in a variety of styles, including glider and swivel models. These models are typically upholstered in neutral colours, which makes them easy to pair with many different interior themes. Those looking for a more vibrant and bold decorative statement can opt for a patterned barrel chair with accent pillows. Alternatively, an oversized barrel chair with a large seat and backrest is perfect for a media room.
Another classic mid-century modern barrel chair is the HN Home Albini Mid-Century Modern Tufted Arm Chair, which has a button-tufted back, padded seat cushion, and tapered arms. You can also find them in various different finishes, and you can customize the design to suit your specific needs. For a vintage living room, consider getting a pair of these upholstered chairs, and then buy the matching ottoman.
Mid-century modern tufted velvet sofa
The Mid-century modern tufted velvet sofa is an elegant contemporary piece that perfectly combines retro styling and modern glam. Its tufted tight back cushions will keep your living room looking tidy for years. Its metal legs lend an airy, modern vibe while the velvet upholstery gives it a classic, luxurious look. Mid-century modern velvet sofas are the perfect way to update an outdated living room.
If you want to spend less than $400 for a high-end tufted velvet sofa, consider the Wayfair Womble. This piece looks more expensive than $400, thanks to its tufted bench cushion and classic mid-century design. Plus, it converts to a daybed, making it a versatile piece for a vintage living room. If you're in the market for a velvet sofa, you can also opt for a velvet sectional sofa. There are many companies that manufacture upholstered sofas from a high-quality velvet fabric, so you can get something that is tailored to your needs.
You can choose a tufted velvet sofa in various colours and styles. You can choose a sofa with a tufted cushion in moss, which is a trendy and modern update to a classic neutral colour. Another option is a chaise version. Whatever your style preference is, a tufted velvet sofa will surely enhance your living room. So, get a couch that makes you feel comfortable and stylish.
A mid-century modern tufted velvet sofa can add a touch of sophistication to your vintage living room. These pieces are often made from wood and fabric and are typically carefully crafted. The best thing about velvet is that they don't have to be expensive – in fact, most of them are available at an affordable price of under $500. Plus, they always look like they cost a lot more than they do!