Cramped spaces always make you feel dull and unlivable. It often feels challenging to decorate a small bedroom and create an illusion of a bigger room. But the good news is we have got some styling tips that will make you believe 'size doesn't matter.' Check out our game-changing ideas for decorating your small bedroom.
Hidden Storage
It's unnecessary to cut down on your belongings when you have a small bedroom. Shelving and extra rails will provide you with additional places to stuff your storage, keeping the room tidy. Use hidden storage compartments to organize your belongings efficiently and smartly,'
Use Of E

very Corner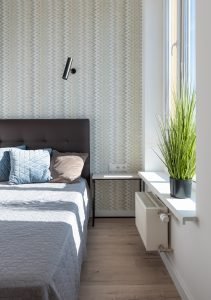 Your bedroom may be small but fill it with characters or books to make it look more livable. Make sure you use every corner by hanging DIYs, lights, or bookshelves. Do not leave any space available; even windowsill can be resourceful when there's no room for an extra table.
King-Size Bed
Don't be afraid to add a large king-size bed into your smaller room, as there is an option to store your belongings underneath. You can choose a bed with drawers to add your stuff and keep the enormous bed of your dreams!
Light It Up!
Light makes your room feel bigger, so allow the sunlight to come through the windows. While your bedroom may not have a lot of floor space, you can place the slanted ceiling to build in an extra window- an excellent way to bring in extra sunlight, right? Always use sorbet-pinks, greys, or whites when decorating small bedrooms, as it ensures the room feels bigger.
Mirrors
Clever styling is key for enhancing a small bedroom. Strategically add mirrors or furniture with lots of mirrors to make it feel much more extensive than before as the reflected light brings out the brightness in the room.
Creative Storage
When adjusting in a cramped quarter, you have to get scrappy and strategic about storage space. Add built-in storage behind your bed for your books, which will allow for extra space if you are a voracious reader and display decor and art.
Multipurpose Furniture
While buying furniture, make sure it offers a few practical benefits. For example, a small dresser can also be used as a nightstand.
Check Daybed
Not a big bed person? Use a Daybed and Voila! Your bedroom is double in size. A daybed, when pulled out, turns into a double bed, and you'll always find what you're looking for without stubbing your toe on it. It's similar to a Murphy Wall bed but a lot easier to make your bed all by yourself. Awesome, right?
Go Vertical
With a teeny-tiny bedroom, add a floating shelf and use the vertical space to display your DIY or store knick-knacks. You can also add a lattice garden to your wall to give it a marvellous charm.
Your bedroom doesn't have to be boring because it's tiny! Go creative, let your ceiling make a difference, or go bold with colours to keep the room from feeling claustrophobic. Or simply use the ideas mentioned above and thank us later. Wink.